Introduction to Trigonometry
March 6, 2021

Posted by:

Fliplearn

Category:

Generic
Trigonometry is not merely an academic segment of Mathematics that we learn during higher schooling. But this knowledge is well applied in today's modern world also. Whether it's an architect who uses it to build dimensionally accurate houses or it's a crime scene investigator who understands the facts about the crime or an astronaut who paves his/her way towards space, trigonometry is the one which helps them make right calculations. Trigonometry understands the relationship between sides and angles of a right angled triangle.
Being one of the important branches of Mathematics, every student should focus on Trigonometry. It allows students to understand the complexity of angles and dimensions in a very less time.
What is Trigonometry?
Trigonometry is the study of the properties of triangles and the trigonometric functions to be used for various applications. Trigonometry studies the relationships in Mathematics that involves lengths, heights and angles of various triangles. Trigonometry is found across geometry. It is basically considered as the computational component of geometry. Specifically, Trigonometry is about study of the angles and dimensions of triangles, where one of the internal angles is around 90 degree. Today, Trigonometry plays an important role in a wide variety of careers, including engineering, design and architecture and other fields.
History of Trigonometry
Since ancient time, Babylonians and Egyptians had used theorems that involved ratios of sides of similar triangles for measurement and construction purpose. The Greeks were also used to do systematic study of angles and lengths related to astronomy. So, the study of Trigonometry can be traced since 2nd Millennium BC. The concepts of Trigonometry were also very much prevalent in Kushtie Mathematics.
Who Invented Trigonometry?
In the modern sense, Greeks were the one who had begun Trigonometry. Hipparchus (C. 190 – 120 bce) was the first person who had constructed values for a trigonometric function. He is known as the "Father of trigonometry."
Functions of Trigonometry:
An angle measuring more than 0 degree, but less than 90 degree is known as acute angle. The right angled triangle ABC consists of a right angle at 'B'. The side opposite to right angle is known as hypotenuse. Whereas, the side opposite to angle 'A' is known as perpendicular for angle A. Lastly, the side opposite to third angle is known as the base for angle A.
Check out in the figure given below: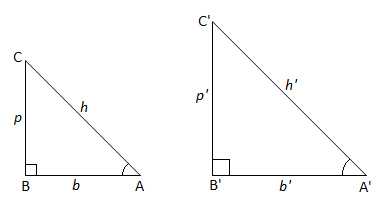 There are six possible ratios that can be easily formed from the three sides of a right angled triangle. Have a look:
sin A = p/h
cos A=b/h
tan A =p/b
cot A = b/h
sec A = h/b
csc A =
The plane is divided into four quadrants. An angle is known to be in the quadrant wherever the terminal ray lies.
In the 1st quadrant, sin A, cos A, tan A, cot A, sec A, and CSC A are positive, since x and y are positive in this quadrant.
In the 2nd quadrant, x is negative, while 7 is positive. Hence, only sin A and CSC A are positive.
In the 3rd quadrant, both x and y are negative, hence only tan A and cot A are positive.
In the 4th quadrant, x is positive and y is negative, hence only cos A and sec A are positive.
Trigonometry Table
Hipparchus had tabulated values for all the six trigonometric functions for various angular values.
Use of Trigonometry Table
Trigonometric ratios table helps find out the values of trigonometric standard angles, like – 0°, 30°, 45°, 60° and 90°. The trigonometric ratios consist of sine, cosine, tangent, cosecant, secant, and cotangent. The short form of these ratios are sin, cos, tan, cosec, sec and cot respectively. The values of trigonometric ratios are essential to solve the trigonometry problems. The trigonometric table plays a pivotal role in a lot of areas like – navigation, science and engineering. This table was really helpful during the pre-digital era, when even pocket calculators were not in existence.
| | | | | | |
| --- | --- | --- | --- | --- | --- |
| Angles | 0° | 30° | 45° | 60° | 90° |
| Sin θ | 0 | ½ | 1/√2 | √3/2 | 1 |
| Cos θ | 1 | √3/2 | 1/√2 | ½ | 0 |
| Tan θ | 0 | 1/√3 | 1 | √3 | ∞ |
| Cosec θ | ∞ | 2 | √2 | 2/√3 | 1 |
| Sec θ | 1 | 2/√3 | √2 | 2 | ∞ |
| Cot θ | ∞ | √3 | 1 | 1/√3 | 0 |
Some of the special trigonometric formulas are given below:
Pythagorean Identities

sin²θ + cos²θ = 1
tan2θ + 1 = sec2θ
cot2θ + 1 = cosec2θ
sin 2θ = 2 sin θ cos θ
cos 2θ = cos²θ – sin²θ
tan 2θ = 2 tan θ / (1 – tan²θ)
cot 2θ = (cot²θ – 1) / 2 cot θ

Trigonometry Identities

sin²θ + cos²θ = 1
tan²θ + 1 = sec²θ
cot²θ + 1 = cosec²θ

Sine Laws
Cosine Laws

c2 = a2 + b2 – 2ab cos C
a2 = b2 + c2 – 2bc cos A
b2 = a2 + c2 – 2ac cos B
Real Life Applications of Trigonometry:
Military
Marine Biology
Criminology
Aviation
Astronomy
Electronics
Meteorology
Seismology
Acoustics
Oceanography
Electronics
Even if one doesn't want to pursue a career in any of the professions where trigonometric knowledge is widely applicable, the basics of trigonometry must be known to everyone. It is one of the important branches of Mathematics that helps solve complex equations.